Book Review:
Kenneth Oppel, Airborn
reviewed by Jerry Wright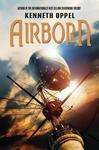 Airborn
Author: Kenneth Oppel
Pub: EOS
Hardback: May 11, 2004
Length: 368pp
ISBN: 0060531819
Price: $17.95

Last week, I told you of a find from EOS Books, a division of Harper-Collins. Mortal Engines was an excellent "Young Adult" book, but now, I've found another, also from EOS. This too is the first American publication of a book that did extremely well in the UK. Only, in this case, the author isn't British, he's Canadian. His book is entitled Airborn. Yes, that is correctly spelled. Or spelt, depending.
Airborn details the adventures of Matt Cruse, cabin boy on the Airship Aurora. Thanks to the discovery of a nonflammable gas lighter than hydrogen, hydrium (never explained in even a psuedoscientific manner, but who knows, maybe it leaks in from a different space-time continuum?) has allowed great Airships to cross the Atlanticus and Pacificus, carrying passengers 600 feet above the waves. The story seems to take place in either the late 19th or early twentieth century. Science is progressing, as are social mores and class consciousness. Matt, although a fatherless boy with no money or political pull, can by luck and pluck, move his way up, perhaps even to the captainacy of one of these leviathans of the air. And he truly is born of the air, as are the ships. Yes. Airborn.
As I read the story, I was reminded of Robert A. Heinlein's Job--A Comedy of Justice wherein the story mentions the great airships of Alex Hergesheimer's world. However, the mighty airships are about all the stories have in common, except that Matt could have been a Heinlein juvenile character, if he had been a bit more pragmatic. Never-the-less...
This is an interesting work, in that plot-wise, it is pretty predictable, but the descriptions of the Aurora, Matt's place in the world, his interactions with fellow crewmen, and passengers, including the fascinating, irritating, upper-crust adventure-girl Kate are extremely well done, and his creation of the cloud cats truly marvelous.
And then, there are the pirates. Amoral, with no qualms about killing just to prove a point, but the leader of this bunch of vicious no-goodniks turns out to be a loving father? as well as psychotic killer?
This is a very fun book, and well-written, and wouldn't you know it, has been optioned as a movie by the guy that did Mummy. More information is available at www.airborn.ca.
--Jerry
Copyright &copy 2004, Jerry Wright and Bewildering Stories