KJ Hannah Greenberg,
A Bank Robber's Bad Luck with His Ex-Girlfriend
excerpt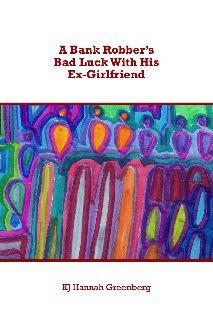 A Bank Robber's Bad Luck
with His Ex-Girlfriend

Author: KJ Hannah Greenberg
Publisher: Createspace, Dec. 15, 2011
Format: Trade paper
Length: 76 pp.
Price: $16
ISBN: 193637322X; 9781936373222
Songbirds are entertaining. Roses smell nice. Most passion, however, resolves as cacophonous and stinky. In A Bank Robber's Bad Luck with His Ex-Girlfriend, this mess, to which love often gets reduced, is poked at, is prodded a lot, and is eventually pushed over. Whereas money might buy all manners of dalliance, and fame might catapult a person past social mores, a good, strong kick, such as is offered in A Bank Robber's Bad Luck with His Ex-Girlfriend, can most successfully level the difference between interpersonal "decency" and liaisons' impropriety.
To wit, A Bank Robber's Bad Luck with His Ex-Girlfriend employs a mixture of contemporary and traditional forms, including ae freislighae, ballad, cyrch a chutas, and free verse, as it proffers the tang of real or imagined, but almost always piquant, romantic life. First love, serial marriages, fidelity, adultery, crushes, callous calculations, and much more are explicated in this collection's unabashed adjudication of relationships.
Concurrently tough, sassy, and hopeful, this book strives to press up against soft concepts of intimate associations. Articulated regrets, muted longings, and rudimentary joy all slide among these pages. From the initial poem, "A Bankrobber's Bad Luck with His Ex-Girlfriend," to the concluding verse, "Hurt is to Healing," this volume gives readers images and language with which to wrestle with affection's important, awkward and contested moments.
Whereas you might be tempted to forgo all further human experiments in favor of cloistering yourself with an imaginary hedgehog or whereas you might find it easier to pretend that all is right with your current situation than to redefine your personal boundaries, allow A Bank Robber's Bad Luck with His Ex-Girlfriend to help you own your volitions. It might be imprudent to act otherwise.
A Bank Robber's Bad Luck
with His Ex-Girlfriend

Sun-faded bookstands,
Neatly stacked, yellowed files,
Sum our common significance.

Your occasional night feedings,
Threw my axels at odd angles,
Rang my chuckwagon bell.

Yet, lambies and kids never dared
Merge their needs;
Village norms trump in the marketplace.

My small cabin meant shelter,
Not refuge; no space for bandits, here.
Fenceposts mark my ranches.

Consider, the staid, local law says
(Fiduciary institutions, aside)
Sniveling's no solace for roundups.

Hurt is to Healing

Streaks of lightning, skyward fires,
Dawn's misty clouds, sunshine's stars,
Flaming rivers, pulling us higher,
Praise horizon line.

Desert-blown winds, desert-blown gore,
Sands of the nations, blood of the war,
Tear stained legions, living out lore,
Praise horizon line.

Herbs' healing blossoms, folks' fostered kin,
Rainbows' bright endings, storms' slow begin,
Forces felt human, forces within,
Praise horizon line.

Death, birth and passage, eternal clash,
Mixture of history, horrid morass,
Victory's prices, expensive peace,
Praise horizon line.

Sleep while the wind sleeps, rest with the sky,
Danger in fire, safe while it's nigh,
Wheels on life's river, breath whispers by,
Praise horizon line.

Bloom tiny babies, bring woolly sheep,
Light scented torches, oils to seep,
Shadows encroach here,
Truth leaves us peace,
Praise horizon line.

Hurt is to healing, blood is to tears,
Laughter takes illness, songs rout out fears,
Living brings losses, living repairs,
Living repairs.

When Lowing Wisents Agitate

School marms' meetings blossom nonce, also disappear,
While lowing wisents agitate among cornflowers, all blue, bright, cheery.
Even the most cowed matrons find reasons to sometimes kick catalysts into overdrive,
Given handsome cowboys. Kernels do occasionally pop on the stalk.

Old maids, it seems, have little interest in evoking the specters of dating
When there exist towns, cities, plus select trailer parks, full of studly others.
Rumor claims they'll go half way to the moon with pensioners,
Rather than bother spelling out plays to fumbling youths.

Such "wild gals," after all, come in sizes, colors, ages banned from centerfolds,
Hence, their songs ring much sweeter compared to those of airbrushed beauties.
Crones appreciate flaccid arms, rotund bellies, bewhiskered jaws, occasional indigestion.
As unguent, they serve by fastening more than mid America's pants.
Copyright © 2012 by KJ Hannah Greenberg