Channie Greenberg
KJ Hannah Greenberg
Bewildering Stories biography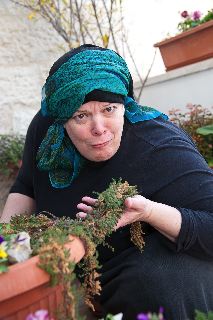 Take me to your leader??

photo © Yiftach Paltrowitz, 2011
Channie Greenberg has been reading speculative fiction long enough to remember a "science fiction" story that pivoted on the idea that a boss could be a woman and a subordinate could be a man. Decades later, Channie discovered that fantastic prose embraces women as mentally and physically muscular and that editors continue to wrap new-fangled rubrics around old-fangled writing.
Although neither a "steampunker" nor an admirer of "goth," Channie likes creativity's power. Accordingly, she doesn't mind being labeled "a writer of slipstream fiction." To wit, her worlds are as readily populated by Furries, by gelatinous monsters, by devious rodents, and by misguided aliens as they are by troubled lovers, by overwhelmed parents, and by opportunistic shopkeepers.
In fact, Channie, a handful of bug-eyed intergalactic beasts, and her ever-faithful hibernaculum of imaginary hedgehogs, make a point of writing not only for consumers of cosmic news, but also for people (and monsters) who like flowery poetry, who are experiencing identity crises, and who play oboe from orchestras' second chairs. They eat oatmeal, too.
That team of real and otherworldly brawn and beauty manufactures heaps of words, as evidenced by:
Oblivious to the Obvious: Wishfully Mindful Parenting (French Creek Press, 2010)
A Bank Robber's Bad Luck with His Ex-Girlfriend (Unbound CONTENT, 2011)
Don't Pet the Sweaty Things (Bards & Sages Publishing, 2012)
Supernal Factors (The Camel Saloon's Books on Blog, 2012)
What's more, they slush or slushed for Sotto Voce, for Bound Off, and for Bewildering Stories, and wrote reviews for Tangent. As well, that gal and her pretend pals were nominated in 2009, and in 2011, for the Pushcart Prize, shamelessly accepted National Endowment for the Humanities monies in 1989, and saw Conversations on Communication Ethics (Praeger, 1991) published, and Watercolors (Scotch & Soda Productions, 1979) produced.
As a solo act (separate from her make-believe critters), Channie writes or wrote columns/ blogs for: The Jerusalem Post, Natural Jewish Parenting, Kindred, The Mother Magazine, and Type-A Parent.
Others of Channie's ambitions, beyond rounding up all of the dust bunnies under her sofa, include finishing:
The Bag Lady of Tsfat
The Ill-Advised Adventures of Jim-Jam O'Neily
Demurral
Securing sane contracts for:
Ten Kilo and One Millio
Upon the Lion and the Serpent
Whistling for Salvation
And crying at the weddings of each of her children. She means to improve her butterfly stroke and to catch up on her naps, too.
Copyright © 2009-present by Channie Greenberg
Bewildering Stories bibliography