Bertil Falk
Bewildering Stories biography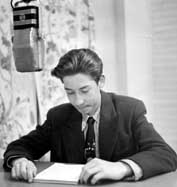 Bertil at 15, in 1948 Bertil Falk (born 1933), retired Swedish newspaper and TV journalist. Debut at the age of 12 with the story "Trip In Space," inspired by reading Edmond Hamilton and Eando (actually Otto) Binder. Their short stories were published in Swedish.
Got his first novel The Masked Gang-Leader published in the pulp magazine Alibi Magasinet at the age of 20.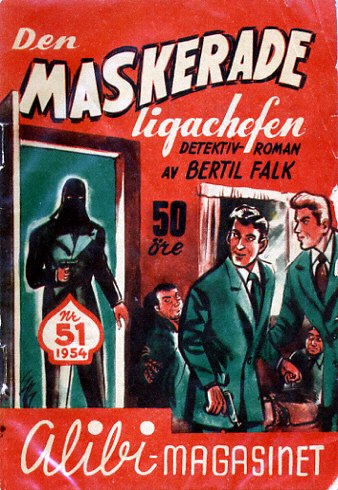 Bertil's only pulp mag, 1954 After that, Bertil worked as a journalist for newspapers all over Sweden and ending up as scriptwriter in the newsroom of a Scandinavian TV channel in London.
Bertil has spent more than ten years of his life in Britain, India and the United States and has travelled all over the world. He has produced TV documentaries in Kenya and Tanzania about medical doctors working for the Rotary Doctor Bank and the documentary The Woman Jack Didn't Rip about the third victim of Jack the Ripper. She was Swedish. Some of these documentaries have been shown by QPTV in New York.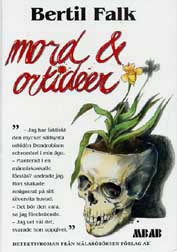 Bertil's second mystery, 1996 In 1996 Bertil's second mystery, Murder and Orchids was published. There is a Ginnunga gap of 42 years between the two novels. Since 1996 he has written many mysteries, fantasies and sf-stories, not to mention a bunch of short stories, most of them published in Swedish.
Bertil is now (2006) translating into Swedish the autobiography Flames from the Ashes by the Indian journalist and freedom fighter P. D. Tandon in Allahabad.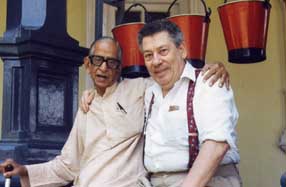 Bertil and P. D. Tandon,
in Allahabad, ca. 1991
After his retirement Bertil was for a couple of years the editor of DAST Magazine, a Swedish publication dedicated to detective stories, secret agent stories, science fiction, fantasy, and thrillers: in a word, DAST. He is still writing for the magazine.
Bertil has translated a lot of short stories from English to Swedish by Arnold Bennet, John Dickson Carr, Wilkie Collins, F. R. Corson, F. Scott Fitzgerald, Jacques Futrelle, Willliam Schwenk Gilbert (of Sullivan fame), Jeremiah Healy, Edward D. Hoch, William Hope Hodgson, Jack London, L. T. Meade, O. Henry, Sue Parman, Anthony Parsons, Melville Davisson Post, Mark Twain, Edgar Wallace, Henry St. Clair Whitehead and Loel Yeo. Just to mention the top of an iceberg.
Bertil is living on his own in a cottage in the small village Västra Alstad in Trelleborg, the southernmost community of Sweden. He has two daughters (both of them translators) and five grandchildren, at this stage (2006) of the Harry Potter-reading age.
I will not burden this bibliography with all my books and stories and articles in Swedish. These are my short stories published in English so far:
"There Are No Pockets In Our Graveclothes," Ellery Queen Mystery Magazine (Sept/Oct 2004)
"Aaron and Faulkner" in the anthology Falling In Love Again (Outrider Press, 2005)
"Blue Night, Blue City" Hardluck Stories (winter 2005)
"The Multicolored Herring" Crime Spree Magazine 14 (Sep-Oct 2006)
"Jabardast," Mysterical-E (summer 2006)
"Don't Judge a Strangler by the Hair," Darkest Before the Dawn (January 24, 2009)
Translations into English:
August Blanche: "Lars Blom and His Disappearing Gun," originally published in Swedish in 1860; Alfred Hitchcock's Mystery Magazine (September 2002)
Aurora Ljungstedt, "The Hastfordian Escutcheon" with "The Sealed Letter," originally published in Swedish in 1870; The Battered Silicon Dispatch Box (Canada, 2005)
Locked Rooms and Open Spaces, an anthology of 150 years of Swedish crime and mystery fiction of the impossible sort. The Battered Silicon Dispatch Box (Canada, 2007); Bertil Falk, ed.
Crime, the Swedish Way, an anthology of 10 crime stories (Milwaukee, Wisconsin 2008), Bertil Falk, ed.
Copyright © 2006, 2010 by Bertil Falk
Bewildering Stories bibliography