Marianne Delacourt, Sharp Edge
reviewed by Alison McBain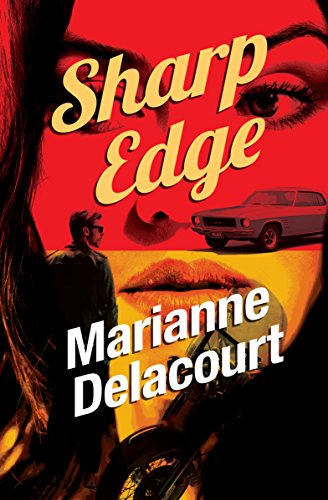 Sharp Edge

Author: Marianne Delacourt
Publisher: Deadlines/Twelfth Planet Press
Date: October 24, 2017
Length: 232 pages
ASIN: B075ZWXLX3
BN ID: 2940154560068
I'm not always the biggest fan of starting in the middle of a series; I usually like to go on the ride with the character from the very beginning of their journey. But I had no problem adjusting to Tara Sharp's world of combating crime with her psychic powers, living the high life, and trying to juggle a bevy of men.
In a lot of ways, the Tara Sharp series reminds me of another two favorite series of mine: Janet Evanovich's Stephanie Plum series in content but with the tone of Ms. Evanovich's Fox and O'Hare series, co-authored with Lee Goldberg.
While Tara Sharp has plenty of sarcasm up her sleeve, this novel is less laugh-out-loud slapstick and more of a quiet chuckle when she manages to get herself into — and out of — some tricky situations.
Set in Perth, Australia, the book follows psychic private investigator Tara Sharp as she gets hired to solve a couple of high-stakes crimes. The main crime revolves around the death of Bernard Romeo, whose body washes ashore with its arms removed. She owes a favor to the Western Cheaters, a rough, tough motorcycle gang who saved her when she got in trouble previously with drug kingpin Johnny Viaspa. The Cheaters want to find out who killed Bernard and why.
But there are a number of factors getting in Tara's way. First, she has to deal with Johnny Viaspa, who's had a hit out on her since she crossed him when solving another crime.
Then there's Phoebe, her old schoolmate, the secret ex-lover of Bernard and also the Premier's daughter. Alternately, there's Garth, Tara's ex-fiancé who comes to her for advice on how to help his new girlfriend extricate herself from a toxic business partnership, one that turns out to be connected to Viaspa's family.
Finally, there's Jake Stranger, the President of the Western Cheaters, who alternately hits on Tara and threatens her life.
At the same time, Tara is juggling a number of personal issues. For starters, she just became intimately involved with a younger man, Ed. He's a male model and uncomplicated, and the guy she turns to for comfort when work and personal issues are stressing her out.
Then there's Nick Tozzi, the exact opposite; he presses all her buttons, but he's just getting out of a toxic marriage. The consequences of his breakup with his wife follow him, and not in a good way when he's trying to start a new relationship with Tara.
Tara can't choose between these two men, and there are one or two close calls where all three run into each other and Tara has to cover her butt, sometimes literally, to avoid getting caught dating two guys at once.
Tara's family life is also complicated. She takes care of a runaway teen, Cass, who helps Tara with her business in between attending school and working a paying job. Then there's Tara's mom, a member of the socialite set in town. Tara and Cass live in Tara's mom's guest house, and there is an uneasy truce between them so that they can exist in close proximity to each other.
Finally, there's Tara's Aunt Liv, who's fulfilled the role of the mother she never had: understanding, compassionate, and supportive. Liv has an episode with her health and ends up in the hospital. Although it's just a scare, it's one more stress to add to Tara's plate.
With one group of gangsters trying to kill her, and the other threatening to do the same, Tara must find a way to solve the crimes, cheat death, avoid the scrutiny of the cops, handle her stressful home life, and pick the perfect guy.
What struck me first when reading this book was the voice. It's humorous, self-deprecating and instantly likeable. The tone reminds me of a rom-com, although without the resolved happily ever after part of the romance.
It also contains elements of a thriller, with chase scenes, shootouts and a mystery to solve. I think the smallest element of the mix is the paranormal aspect. While Tara does possess the ability to read auras, and she does have a mentor to help her with it, I feel that this part of the story doesn't play a big part of the plot.
Tara reads auras, but they seldom seem to help her determine a course of action or even give her a lot of information that couldn't be obtained another way. Since this is supposed to be the reason why she's a P.I., I wanted to see more of this aspect of her ability and see it used more during her investigations.
I sometimes forgot she even had this ability, since she doesn't use it or remark about it in a consistent manner when interacting with others. And there is only one time when she does more than read an aura and actually tries to use her ability to cause an upset person to calm down. I would've liked to see more active uses of her power, and to make it a more central aspect of solving the mystery.
But that is just one genre-lover's opinion, and others might find that the balance of paranormal to mystery is a good fit. Overall, the book is a fun, light read, perfect for when you have a free afternoon and perhaps a mimosa or two waiting. Tara Sharp is a likeable and flawed character who is struggling to figure out her personal life as much as she is struggling to solve crimes. Even if, like me, you're not starting out with Book One in the series, I hope you enjoy the ride as much as I did.
Copyright © 2017 by Alison McBain