Jellyfish
by Richard Ong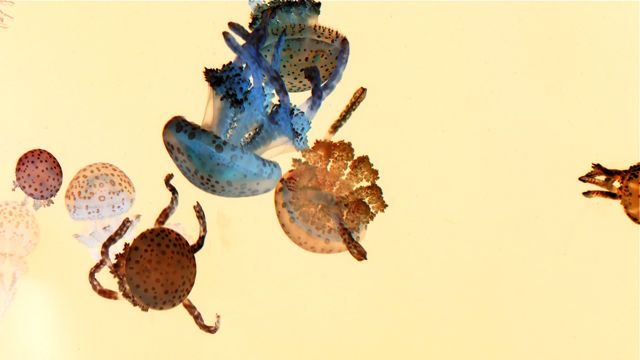 Here are Photoshop-modified images of the beautiful spotted jellyfish. The images give us insights into the structures of these small undersea creatures.
The original photos were taken at the Spotted Jellyfish tank of Ripley's Aquarium beside the CN Tower. When you're in Toronto, you should plan to visit Ripley's Aquarium. It's a huge facility and better than some of the aquariums I've seen in the U.S. except maybe for San Francisco's.
Plan for at least a two-hour visit. There are several sharks, massive rays, and a large selection of jellyfish, anemones and corals. They also have piranhas, poisonous fish, octopus and electric eel. They even built an artificial beach and horizon above the tanks and an underground moving walkway where you can see sharks, exotic fish and corals around and above you as if you were traveling underwater.
Copyright © 2014 by Richard Ong
Interpretations and stories based on this art work are welcome.