The Wooden Spoon
by Carmen Ruggero
Dark and silky smooth, honed by years of use,
the wooden spoon rests in the palm of my hand.
Do you remember that spaghetti marinara?
You were teasing — I recall. I'd just waved the spoon
as I turned toward you, and I'll never forget your face:
I'd left tomato sauce splashed on your shirt.
We laughed so hard, we cried and cried.
I kept the shirt in my box of memorabilia
right along with the picture of you pointing fingers
at that famous birthday cake — you know the one.
It collapsed with the weight of one candle.
I embarrassed myself to death, but you...
you smiled a crooked little smile,
and whispered quickly: "I love you."
And that you did: you loved me.
So I couldn't bake worth a darn — so what?
You were the one holding my hand,
walking beside me on summer nights,
just window shopping... money was tight
but gosh, I loved the little gifts under my pillow,
nickel and dime stuff — treasures to keep,
always a lift at times when I needed one
and well... now I'm getting sentimental —
and would you believe I'm crying?
Because... well... the darn spoon just broke.
I look at the pieces lumped as one in my hand
and I could swear it glitters, but how could it?
It does though... it glitters, though it's not silver;
it's just an old worn-out wooden spoon
but it sure shines with memories and
priceless moments nickels and dimes could buy.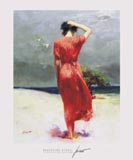 Copyright © 2007 by Carmen Ruggero