Slawomir Rapala
Bewildering Stories biography
First of all, maybe I should explain my name. It's a great ice-breaker whenever it gets mentioned for the first time, I immediately become the center of attention, an attraction of sorts. It consists of two ancient Slavic words: slava, 'glory' and mir, ''peace'. It speaks volumes about my Polish heritage.
Growing up in Canada with a name like that wasn't easy and many times I wanted to change it into something more pronounceable, something less strange and alien (Stephen?). I never did, though. There is something in every name: a heritage, history, tradition, myth... You really can't break away from these things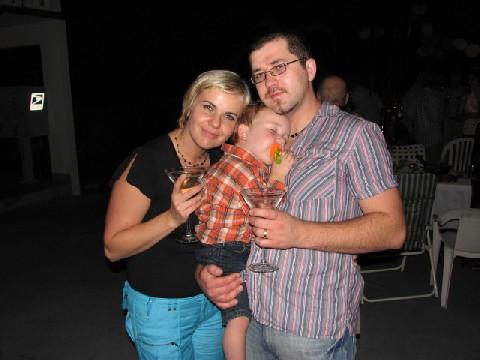 My name is only the tip of the iceberg, though; there is much more going on there due to my immigrant status. Acculturation begins at the very onset of our life and continues throughout. Am I Polish? Or Polish-Canadian? I spent my childhood in Poland, my teenage years in Canada, my early adulthood in the U.S. and later in Australia. Then I returned to Poland, where my son Simon was born in 2005. The circle was complete. Is he Polish? Or Polish-Canadian?
I returned to Canada in March 2005 with my beautiful wife and son, who is a continuous source of joy for us both. It was difficult to leave Poland, where we've enjoyed the traditional Polish cuisine thanks to the examplary culinary talents of my mother-in-law. So much history and tradition in this one of the many beautiful, though economically, socially and politically crippled countries of the post-Soviet bloc. But the people are so sad.
I have been writing since I remember, both in Polish and in English. Poetry, stories, novels – fantasy and straight sci-fi. Never had much success in publishing, but then again I never really tried hard enough. I think I took it too seriously for some time and it was a source of stress. Now I write as a hobby and I find it much more relaxing. I also suddenly found that I had an audience.
I should bow my head here to the genius of Robert E. Howard. I still remember the first Conan story that I read when I was perhaps ten or so. Left me speechless. Still does. I don't know what it is about sword and sorcery: the strength of heroes? The beauty of women? The magic? Perhaps the freedom to shake off conventional themes and dive head-first into something strange and exotic. Something that you created yourself.
Most of my stories are based in the same world, a world divided. A world I call post-Azmattic, where time is winding down. My main character, a protagonist I hope others will learn to love and hate alike, is named Aezubah. I mentioned the importance of names before. His name you can trace back to a Hebrew original, and its meaning reflects his fate, a fate that he does not accept until late in his life.
I hope to have a small website running soon that may turn into a place where others can come and enjoy the sword and sorcery-governed world of Aezubah. Maybe some art, too, eventually. I hope that others will come and learn about me: my writing, my influences, my likes and dislikes.
I imagine a universe where I could sit and write all day long. Locked in a little room. Well, not too little. Perhaps with an ocean view, so I could watch my wife sun-bake on the beach while Simon climbs a surfboard and heads for the waves. Until that day, then, enjoy the site. And don't forget to come back.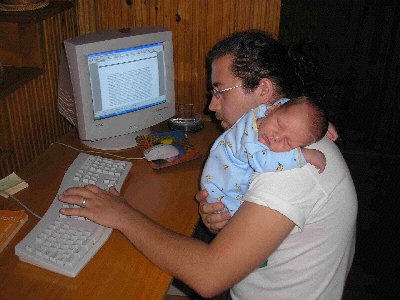 Copyright © 2007 by Slawomir Rapala
Bewildering Stories bibliography