Edward Burger
Bewildering Stories biography
My name is Edward Burger. I'm 44. I live in Melbourne, Australia, where I've lived all my life. I have no wife or children and enjoy living in share-houses where I make lots of good new friends all the time.
I am keen on experimental literature, sci-fi, opera, dinosaurs, astronomy, the environment and wildlife. I spend most of my time writing, occasionally performing in amateur musicals, but I earn money in part-time or temporary jobs such as cleaning, factory labouring and child care.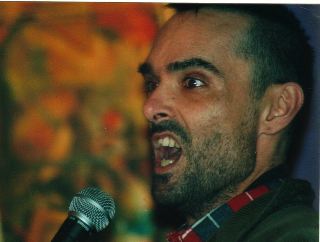 I have a B.A. in English Literature and diplomas in Graphic Design and Writing. I was primarily a visual artist, now I'm primarily a writer. I write fantastic, weird and experimental stories, short plays and poetry. I won the Melbourne Fringe Festival award for my performance poetry, in which I incorporate wacky voices, word play and sometimes opera.
I have written a novel, entitled Bucket-Headed Dogs, containing drawings, photos, poetry, recipes and notated music, I have compiled a story collection, People Behaving Strangely, and a poetry collection. I am trying to get them published.
I have had many stories and poems published in journals and anthologies in Australia, and a couple in the U.S. Recordings of my performance poetry have appeared on local CD anthologies and websites, my short plays have been performed and I frequently read at Spoken Word (live poetry) events. The Spoken Word scene in Melbourne is huge!
I believe that the imagination is one of humanity's greatest assets, but too much literature is bogged in realism. I feel so much freedom when I write! I can do absolutely anything! I love it!
Copyright © 2006 by Edward Burger
Bewildering Stories bibliography