Rachel Gibson, The Trouble with Valentine's Day
reviewed by Alison McBain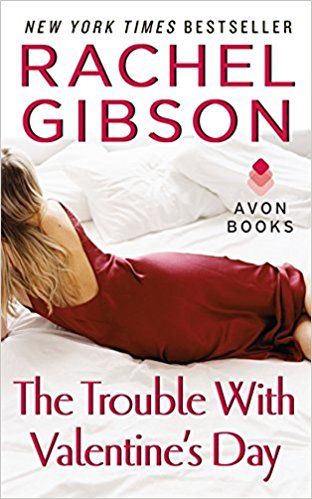 The Trouble with Valentine's Day

Author: Rachel Gibson
Publisher: Avon
Date: January 25, 2005
Length: 368 pages
ISBN: 0060009268; 9780060009267

Since February brings to mind hearts and chocolates, I thought it would be a good time to pack in a couple of romances to get the Valentine's Day holiday off to a good start. So I picked up Rachel Gibson's The Trouble with Valentine's Day, which seems to strike a readable balance between the sometimes sickly-sweet romance genre and the humor of rom-coms that I will never admit — in public — to thoroughly enjoying.
Kate is in her early thirties, and has just quit her job as a private investigator in Las Vegas. Her last client asked her to investigate something she's done a million times before: a husband trying to find his missing wife and children. She tracks down the man's family and gives him the information. Next thing she knows, her client's made national news for killing his entire family before taking his own life.
Kate can't help feeling guilty, and she's decided to re-evaluate her situation by moving to the small town of Gospel, Idaho. Her grandfather, Stanley, lives there, and he's still recovering from her grandmother's death two years ago. Maybe if Kate can help her grandfather, she can also figure out how to fix her own life.
Along the way, a snowstorm strands her at a ski lodge for the night, a night that just so happens to be Valentine's Day. After a few too many drinks at the bar, she decides to do the first and only reckless thing she's ever done, which is proposition the sexy man who sits down on the stool beside her. But he turns her down flat, leaving her feeling more defeated than before.
Fast forward to a couple weeks after she arrives at her grandfather's. It's starting to get to be too much for Stanley to run the grocery store his wife and he owned for more than forty years. Kate sticks around to help out, but little does she expect to run into the object of her ski lodge proposition in the small town of Gospel. Her grandfather introduces her to Rob, who owns the sporting goods store across the street from the grocery.
Rob's an ex-professional hockey player who's slept with one groupie too many, and the last one turned out to be psycho. She tracked him down after he returned home from a team road trip and shot him multiple times, resulting in a career-ending and almost life-ending injury. While the crazy one-night-stand woman is now serving twenty years in jail, it resulted in the end of one more thing for Rob: his troubled marriage.
After getting shot, he decides to move to Gospel to be close to his mother, whose profession as a nurse comes in handy during his physical therapy. But probably a stronger reason than keeping close to family is that he's hiding from his past mistakes. He can't help feeling that no woman is worth the potential trouble he might uncover.
But after getting propositioned at the ski lodge by Kate, Rob can't stop thinking about the troublesome redhead. It doesn't help that everywhere he turns in Gospel, he keeps running into her.
Both Kate and Rob are worried about getting hurt again, and both have a lot of baggage that's followed them to this small town. But maybe their sizzling attraction to each other will be enough to fix the heartbreaks that life has dealt them.
I've read a lot of genres, and romance is no exception. I feel sometimes it takes more skill on the author's part to take something formulaic and create something worth spending your time on. It's my first time reading Ms. Gibson's work, but I would enjoy picking up another book by her, and there are several reasons why.
It's hard to deviate too much when it comes to romantic plots. Although there might be twists and turns, the genre generally boils down to several common elements. There are the two main characters who start out antagonistic but attracted to each other, and eventually end up together: the HEA (happily ever after).
Often, the past is haunting them and they have to deal with it before they can move on with their lives. And the two are usually forced by circumstances out of their control to spend time together, either willingly or unwillingly, which causes them to realize how much they love each other.
But what makes the genre fun to read are several things.
First, unique characters. I like that Kate's profession was as a private investigator, something that's not a typical job for a female romantic lead. In addition, she can beat almost anyone at pool. As a pool player myself, this is both appealing and also makes sense, since she lived in Vegas where the national pool tournaments are played. And she's not a shrinking violet, but a ball-busting badass.
Second, flawed characters. The problem that causes Kate to give up her career is not something light and fluffy, but something incredibly serious and relevant to our troubled times: gun violence. And Rob is in the same boat. His problems, while of his own making because he cheated on his wife, also have very extreme consequences. He has suffered, but he wants to be redeemed. And the reader wants Rob to be redeemable.
Third, the level of writing. There's a good amount of humor and a compelling voice to the narrative that keeps the reader turning the page. In addition, the book doesn't veer too far over into the unbelievable, as some romances do.
Sad to say, I've had to put down a lot of books in the genre after reading only the first chapter, because they had waaaay more fantasy in them than a King Arthur legend. And I'm not talking about writing about magic, which can be fun in a romance, but about unreasonable actions by the characters or extremely unlikely setups that just didn't pass the believability test to me as a reader.
That's not to say there aren't elements to the book that won't be to everyone's taste. Romance will always be fantasy-fulfillment, and that's what this book is: two beautiful people with near-perfect bodies gettin' it on. There are a few steamy scenes in the novel, so if you're looking for a fade to black or sweetheart romance, this isn't the story for you.
But it's a fun read, light-hearted in tone despite dealing with some very serious issues, and the characters are appealing enough to have kept me going to the last page. Overall, I'd recommend The Trouble with Valentine's Day to fans of the genre.
Copyright © 2017 by Alison McBain