John Reinhart, broken bottle of time
reviewed by Alison McBain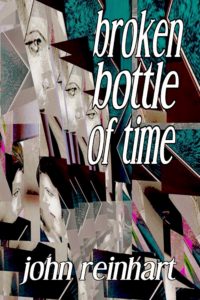 broken bottle of time

Author: John Reinhart
Publisher: Alban Lake Publishing
Date: March 2017
Length: 87 pages
I really enjoy humor in creative forms. A work can be serious and literary, but a glimpse of humor creates balance. Tragedy is more tragic with a touch of comedy, as it highlights the differences between the two. Likewise, comedy with serious undertones is all the more funny because of it. Combine that with a sense of the unexpected, and I feel that you will have an interesting and relevant piece of work to enjoy.
That's how I felt when reading John Reinhart's poetry collection, broken bottle of time. That's not to say it's full of either pathos or bathos. I think it has a good balance of both deeply intellectual reminisces, along with a touch of the ridiculous.
The imagery of the poems is often strongly visual, and the tone lies between straightforward and stream-of-consciousness. The more experimental pieces are reminiscent of the classic Beat poets, with a measured cadence that creates music of the words. While not all the poems are immediately accessible to the casual reader, I feel there is a lot to appreciate about this collection. Readers of speculative, humor and literary poetry will all find something to enjoy in it.
I'll start out my review of Mr. Reinhart's poetry by recalling one of the most famous Beat poets, Allen Ginsberg. In his poem "Five A.M.," Ginsberg explores the premise of human history versus natural wonders through the art of writing.
Elan that lifts me above the clouds
into pure space, timeless, yea eternal
Breath transmuted into words
Transmuted back to breath
in one hundred two hundred years
nearly Immortal, Sappho's 26 centuries
of cadenced breathing - beyond time, clocks, empires, bodies, cars,
chariots, rocket ships skyscrapers, Nation empires
brass walls, polished marble, Inca Artwork
of the mind - but where's it come from?
I think it's no coincidence that Mr. Reinhart explores similar subjects in his final section of poetry, titled "Looking into the Sun." Perhaps in homage to Mr. Ginsberg, each part of this final section is a time, starting at 6:00 a.m. This seems to be a continuation, maybe even a conversation, with Mr. Ginsberg's poem, quoted above. Many of the poems refer to poetry and writing, and mention the writer's place in the world. I especially enjoyed the connective imagery in "2:00 pm."
My inkwell is in the eye socket of the human skull, gateway to the soul, drawing dandelion explosions, a million little heart attacks; words collapse on empty leaves blown brown, lifeless, awaiting resurrection, their asthmatic trees crying, crying...
Some of the collection is prose poetry, some free verse, some haiku or reminiscent of the haiku style. I don't recall any rhymed poetry, but if there was any, it was few and far between. The poet is also free with his punctuation and capitalization, with a sometimes random lack of uppercases and periods, stylistically reminiscent of the avant-garde poet e.e. cummings.
Some common themes throughout the work include space phenomena and space travel, music, poetry and writing, science, nature, Creation, time, dandelions, destruction, sleep/dreams and family. One stylistic aspect to Mr. Reinhart's poems is that often the title is used as the first line of the poem, so the actual first line continues the main theme of the title. For example, in "This hero, my hero, the only hero," the first line continues with:
I ever write into all my stories
is no hero at all but a simple
& aimless child, a puppy panting
to go outside, to splash wantonly
in puddles, to run through clouds
of infinite sunlight...
The imagery in the poems is beautiful and unique, visual and musical. But perhaps what I liked best was Mr. Reinhart's sense of play. Humor is woven throughout this collection, exemplified by poems such as "relativity:" which goes on to explain that the title means, "enduring/family reunions." Another poem, and one of my favorites, is a combination of humor, lost love, revenge and classic horror movies.
shifting for love

I tried inverting
tried changing my skin
grew scales
grew limbs
removed the tail
tucked back tentacles
stuck my eyes to my head
opaqued my outer layer
groomed toenails
moved to a marsh nearer to her
even ate her boyfriend
wore his clothes
to no avail.
I think this is a fun and thoughtful collection of poetry, and I look forward to seeing more work by Mr. Reinhart. I hope you enjoy reading it as much as I did.
Copyright © 2017 by Alison McBain