Christopher Moore, The Stupidest Angel
reviewed by Alison McBain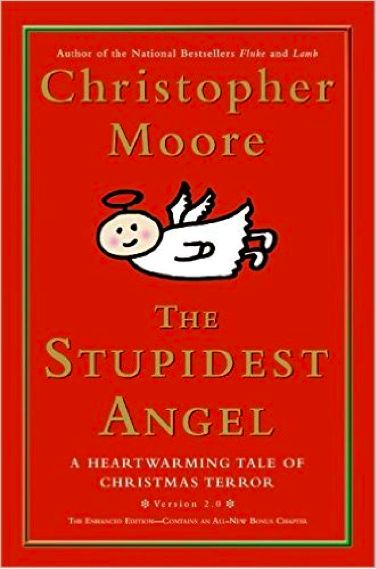 The Stupidest Angel

Author: Christopher Moore
Publisher: William Morrow
Date: November 1, 2005
Length: 320 pages
ISBN: 0060842350; 9780060842352

I picked up Christopher Moore's The Stupidest Angel, maybe because I've been reading a lot of serious books over the winter holidays and needed a change of pace. And it's so easy to laugh at Santa getting a shovel to the head, right? Well... I guess it depends on your sense of humor.
Although the book doesn't start with Santa biting the big one, it is a pivotal event near the beginning, and things just get stranger from there. In a story filled with druggie cops, fallible angels, kleptomaniacs, warrior princesses and zombies, a little shovel to Santa's head might be the least of the strange events.
The tone of the novel is set from the first paragraph.
Christmas crept into Pine Cove like a creeping Christmas thing: dragging garland, ribbon, and sleigh bells, oozing eggnog, reeking of pine, and threatening festive doom like a cold sore under the mistletoe. (p. 1)
I enjoy humor books that turn traditional tropes upside down. This might be considered a heartwarming tale of Christmas because it contains some small measure of good overcoming evil. Otherwise, it might be considered heartwarming because people are set on fire. It's a great change of pace for anyone who might be a little sick of the saccharine sweetness of the holiday. And it's just a plain fun read, with over-the-top humor that had me chuckling, at least internally, as the characters got more and more wackier as the novel progressed.
The one drawback of this book is that it's not the first of the series--there are previous books which introduce many of the characters who reoccur between these pages. But I feel that it's not really necessary to read the previous books to get into this one, although I'll probably look them up when I'm in the mood for more humor.
Perhaps because I haven't read the previous books, though, there might have been a bit of a disconnect between the characters and me just at the start of the novel--I wasn't instantly rooting for them, and it took a bit of a buildup for me to see them eye-to-eye. However, once I got involved in the narrative, I was carried along on the ridiculous and comedic journey with them.
Although I wouldn't give this book five stars--if I was giving out stars, that is--I'd probably give it a solid four. I think one of my favorite parts, which might go overlooked if reading quickly, is how the dog is portrayed. Although a small part of the narrative, the character of Skinner is spot-on and had me laughing whenever he showed up.
Another key element that I found in Mr. Moore's writing was his pacing and dialogue. The back-and-forth banter between the characters is great, and this carries through to the elements of narrative flow and voice. I've been looking for another humor writer ever since I finished reading Terry Pratchett's work (R.I.P.), so I think I might have found him.
Either way, I'd recommend The Stupidest Angel for those looking for a fun, frivolous, and blood-spattered read, and I'll definitely be looking out for more of Mr. Moore's work in the future.
Copyright © 2017 by Alison McBain