Philip Kerr, Berlin Noir
reviewed by Danielle L. Parker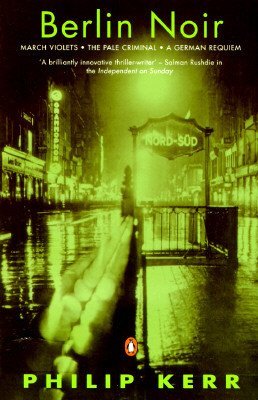 Berlin Noir

Author: Philip Kerr
Publisher: Penguin, 1991
Length: 835 pages
ISBN: 978-0-14-023170-0

I've been "off" reading science fiction and fantasy for a while for a simple reason. I wanted some really good writing. And that's hard to find in the genre.
Now, that's an incendiary statement, even to me. I've been a fan since I was a kid. The first two science fiction authors I read were Robert Heinlein and Andre Norton. I still love them. I can name half a dozen science fiction and fantasy authors I have so much affection for, I plan to give them a great big bear hug when we meet one day, Way Up Yonder.
But the genre is more about ideas than prose as art form. Come on: name some sci-fi genre authors noted for really good writing, for how they said it, as much as what they said.
What do we have? Well, there's Gene Wolfe, whose prose is beautiful, for sure (though a friend of mine once snidely commented nothing ever actually feels like it's happening. I sort of know what he meant, much as I love the guy. Try Pirate Freedom).
Then there's Jack Vance, whose stylistic idiosyncrasies ranged from thrilling, to as arch and coy as his characters often were. There's Patricia McKillip, who writes fairy tales, and one of my favorites, Roger Zelazny and his infused-with-zing prose (send in your own suggestions!) But for the most part, and probably even here, I don't think science fiction is in the same league as the great prose writers. I love it for different reasons.
It's a cliché to quote Raymond Chandler as one of the masters, but we keep doing it, all the same. British writer Philip Kerr dips into the bottomless well once again and serves up the familiar libation. Another hard-boiled hero with an attitude. And yes, that indefinable prose as art.
I guess it's all in the details. A lipless man is described as having a smile like a scar. I could see the fellow as I read the line. When his prose doesn't work, it's when Kerr exaggerates the hard-boiled attitude to the edge of parody.
But mostly it works. This was the fix I needed. I bought Berlin Noir and read it in one sitting. Then I bought its sequels, The One From the Other and A Quiet Flame. I ate them too. Burp! OK, I pigged out, but the cravings are satisfied.
Part of the fascination of this series is the historical setting. Bernie Gunther is a police detective in Nazi-era Germany. The series begins with Hitler's coming to power, and continues through to the protagonist's escape to Argentina. We feel the frenzied ecstasy of the Beast's rise to power and the emotional crash of post-war ruin, right along with the protagonist.
So, is Gunther a war criminal? No, but he's one of the most anti-anti-heroes around. He was an SS officer. He served on the Russian front and he kills people. He yes-sir'd Heydrich, Himmler and Goering. Kerr doesn't spare the failed moral choices. This knight is so tarnished, one could mistake his armor for one of those sinister black uniforms. But... somehow he's still a knight.
That Kerr manages to keep the reader interested in the details of the actual cases Gunther tackles, with all this going on, is a credit to his writing. In Gunther's first case, an industrialist wants to know who murdered his daughter and son-in-law. He wants to know even more where to find her missing jewels.
In another, a rich woman with a homosexual son (we all know how the Nazis loved them) hires Gunther to handle a blackmailer for her. In a third, Gunther falls afoul of some old SS comrades in postwar Germany, plus the Russians and the Americans. (I should note the protagonist genuinely despises Americans, one of the less endearing notes in these stories. OK, so his wife did have an affair with a chocolate-dispensing G.I. It's not enough).
His two most troubling cases run in parallel: now in Argentina, Gunther finds the missing relatives of a Jewish woman, at the same time he's searching for the missing daughter of a Nazi banker.
These are disturbing books. It's not easy to be comfortable with this hero. Yet Kerr makes his point: there but for the grace of God go I. This is how ordinary people become beasts. This is how a man takes one step too far. This is how it feels to look from the other side and know redemption's no longer in the cards. This is how it feels to try to hold on to tatters of decency and know the cloth's still black. Read these books and think.
Copyright © 2010 by Danielle L. Parker