Ian Donnell Arbuckle
Bewildering Stories biography
Ian Donnell Arbuckle gained his super powers when he was thrown from a high catwalk into a boiling vat of typewriters. When he emerged, he was more machine than man — also more boy than man. If you put one thousand of him in front of one thousand word processors you would have in your grubby little hands, in a scant two minutes, the complete portfolio of Mr. Eddie Campbell, as rendered in ASCII-recognizable characters.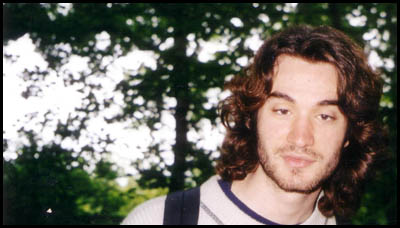 He writes whatever comes to him, but having been immersed in speculative fiction from a very young age, what comes to him usually has robots, clones, or lycanthropes in. He has been published here at Bewildering Stories, as well as in Open Wide, NFG, and in the ragged pages of Script: The Whitworth College Literary Annual. He has also self-published two well-received science fiction novels through the print on-demand services at Lulu.com.
His personal website is at: http://www.highenergymagic.org/~ian/ and his novels can be downloaded or puchased at: http://www.lulu.com/idarb/.
Some stories can be heard on mp3.
Copyright © 2004 by Ian Donnell Arbuckle
Bewildering Stories bibliography