Kristan Higgins, In Your Dreams
reviewed by Alison McBain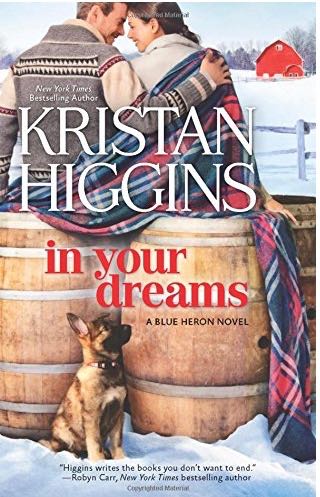 In Your Dreams

Author: Kristan Higgins
Publisher: HQN Books
Date: September 30, 2014
Length: 480 pages
ISBN: 0373779313; 9780373779314

In this fourth book in the Blue Heron series, Kristan Higgins brings the reader back to upstate New York and the Finger Lakes region. The namesake of the series, Blue Heron, is a winery run by the Hollands. They are a large family very involved in the community, as they were one of the founding families of Manningsport.
In Your Dreams starts out with Emmaline Neal, a deputy and the sole woman on the local police force, which only numbers three people. She receives a wedding invitation in the mail from her ex-fiancé. She had grown up with him; they had been high school and college sweethearts. That had lasted right up until he met a personal trainer who stole his body, then his heart away.
Emmaline is a very strong and independent woman, like most of Higgins' female leads, and she tends to scare off men with her forthright manner. As such, she can't manage to rustle up a date to the wedding until her well-meaning friend, Faith, asks someone for her. It's Faith's brother, Jack, the most eligible bachelor (and one of the nicest guys around) of Manningsport.
Jack is the perfect date to the disaster of a wedding Emmaline has to go to. But when their friendship takes a turn into risky territory, Emmaline isn't sure what to make of it. To complicate matters, Jack's ex-wife has just returned to town, and she is on a mission to get him back. Emmaline has to figure out if Jack is the right guy for her or if he's just as dangerous to her emotional well-being as her ex. It's a battle of the exes, but who will come out on top?
I've read practically all of Kristan Higgins' books, so it can be safely assumed I'm a fan. Her writing has very clear descriptions, with laugh-out-loud voice and a conversational style that makes it easily accessible from page one. While this is the fourth book in the series, each novel is a standalone, so you don't have to read the first three to know what's going on in this one. But after reading In Your Dreams, you'll probably want to run out and get them.
Another notable aspect of Ms. Higgins' books is that they are about ordinary people, usually coming from working-class backgrounds, such as farmers, police officers, firefighters, secretaries. These aren't millionaires looking for debutante spouses, but they're likeable people who would be pretty cool folks to hang out with. They have flaws, they do silly, sometimes cringe-worthy things in their pursuit of love, and they are realistic in a humorous, down-to-earth way.
Finally, I have to mention Ms. Higgins' masterful grasp of setting, which really makes the story come alive. Her descriptions are vivid, beautiful, and completely convincing. I once attended an author reading held by Ms. Higgans, and I had the opportunity to ask afterwards if she'd been to most of the places she wrote about. Her answer was that she'd been to some of her settings, and she filled in the rest with extensive research. It is very hard, if not impossible, to tell that her settings are created whole cloth out of research, for it feels like she must have grown up and lived in these small towns herself. She does such a good job of describing them to the smallest detail that they truly come alive.
So if you're looking for a summer romance that you just can't put down, I would recommend Ms. Higgins' In Your Dreams, and the Blue Heron series in general. I hope you enjoy reading it as much as I did.
Copyright © 2017 by Alison McBain