---
---
Neil Gaiman's Coraline
reviewed by Jerry Wright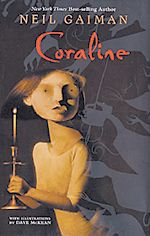 Title: "Coraline"
Author: Neil Gaiman
HarperCollins, July, 2002
Hardcover, 176 pages
ISBN: 0380977788
HB Price: $17.95
(It is also presently available in PB)
I first heard of Neil Gaiman when someone I know was oohing and ahhing over a comic book series called "The Sandman". Yeah, comics. Right. Top quality lit'ritchur here. Except, of course, it was top quality literature, and quite literate at that. I then ran into a book called Good Omens by Mr. Gaiman and one of my favorite fantasists, Terry Pratchett. I still have that book in hard cover.
I didn't really come to appreciate Neil Gaiman until I stumbled across a little miniseries on PBS called "Neverwhere" which took place in a dark alternative universe underlaid on ours called "London Below". After watching Mr. Croup and Mr. Vandemar I was hooked. Now I read Gaiman whenever I can.
Coraline is presented as a "book for all ages", and for children age 8 and up. If your eight-year-old is not prone to nightmares, then Coraline a good book to give, or to read aloud. It is touted on the back by Terry Pratchett, Diana Wynn Jones, and Lemony Snicket, all well known for their children's fantasies.
Coraline ("Not Caroline, Coraline!" she keeps telling people who get her name wrong...) and her parents move into an huge old house that has been converted into apartments. The other lodgers are old and rather strange; two retired actresses and an old man upstairs training a mouse circus, or so he says.
Coraline is intelligent, and bored, and her parents who work at home have no time for her, even though in their distracted way, they do love her. In her search for something to do, she comes across a locked door that opens to a brick wall. On the other side is a vacant apartment. Except one day, after a few sort of spooky happenings, the door is unlocked, and the bricks are gone.
On the other side are Coraline's "other parents" or so they tell her. They seem somewhat pasty and doughy, but the preeminent thing about them are their eyes. Black buttons. They have treats, really good food, toys beyond belief, and they want Coraline to stay and be with them forever.
Of course, they are found to be horrible, there are evil rats, a cat that talks when it feels like it, and Mr. Bobo's Mouse Circus.
Coraline is a classic children's fantasy and proof of the G.K. Chesterton quotation that prefaces the book:
"Fairy tales are more than true. Not because they tell us that dragons exist, but because they tell us that dragons can be defeated."
The book contains appropriately creepy illustrations by Dave McKean and though reminiscent of Tim Burton's "The Nightmare Before Christmas" and Charles Addams, they definitely stand on their own.
People like this book enough, it now has its own website called www.mousecircus.com It is mostly flash, and takes a while at dialup speeds. But also appropriately creepy pictures and audio.
Copyright © 2003 by Jerry Wright