Ellen Datlow, ed., Lethal Kisses
Anthology
reviewed by Alison McBain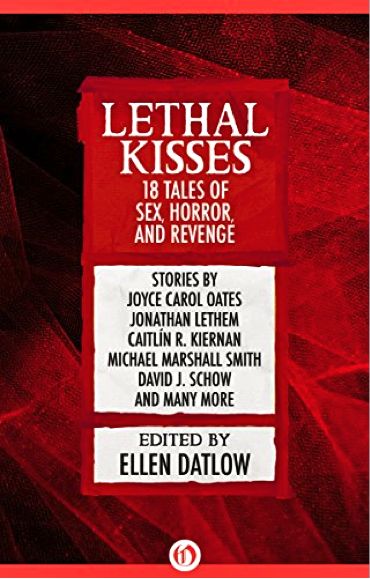 Lethal Kisses

Author: Ellen Datlow, ed.
Publisher: Open Road Media Sci-Fi & Fantasy
Date: June 7, 2016
Print Length: 296 pages
ASIN: B01EIVWK7W
Price: $6.15
Revenge — who hasn't thought about it? That ex who broke your heart... that person who ruined your childhood... the co-worker who stole your promotion. What would you do to them, if given a chance?
That is the basis of Lethal Kisses, edited by Ellen Datlow. This collection was originally released in 1997, with the electronic version released a few months ago. It is packed with impressive names, such as Joyce Carol Oates, Pat Cadigan, Caitlín R. Kiernan, Christopher Fowler, Michael Swanwick, David J. Schow, Douglas Clegg, Jonathan Lethem, Ruth Rendell, Pat Murphy and Michael Cadnum, to name a few.
Many of the stories are set in England, with most of the remainder taking place in America. Often, they have a modern tone, with a large variety of styles and voices, from humor to literary, from noir to horror, from stream of consciousness to straightforward narrative.
There are some very memorable stories in this collection. One of my favorites was "Back in the Dunes," by Terry Lamsley. In the story, Nathan is on vacation and obsessed with the girl next door, who seems indifferent to him. By contrast, Nathan is a bit of a playboy: "love 'em and leave 'em" could be his personal motto. When he goes to the beach store to get supplies, he begins to be followed by a group of kids who stay just out of his sight. As the days pass, the kids become more and more daring in playing pranks on him, and he is at a loss of what to do to protect himself. The girl next door might be the only one who can help shed light on why the kids are plaguing him.
Another one of my favorites is by Joyce Carol Oates. I have several of her books on my shelves at home, and I've long loved her writing style. Her prose is often beautiful and lyrical, and her story "Leave Me Alone God Damn You" is no exception: it is starkly uncompromising and horrifyingly graphic. She manages to capture the strangest ideas and take the reader right into the center of them with her. The basis of the story is an isolated woman, who superficially reaches out to men to form brief liaisons. The men are unmemorable and interchangeable, until one man in particular breaks through the barriers with which she's surrounded herself. But is she ready to accept him into her life or will she reject him like all the others?
In "Foreign Bodies," Michael Marshall Smith creates a down-to-earth main character who seems to have an unusual number of crazy exes in his past. He's too shy to go up to women himself, and he's often pursued by the wrong sort of girl; that is, until he meets Jenny. She changes him, and it's a change for the better. She is anything but crazy, and their relationship is his first one that is free of drama. But good can be fragile. His best friend's new girlfriend starts calling him and making suggestive advances on him. He needs to find a way to get her off his back before his nice, normal life unravels permanently.
The narrator's voice is often wry and humorous, and I found myself chuckling at Mr. Smith's asides about the male-female dynamic. For example, "Being denied sex is one of the key features of being a male earthling, and it's only the grace with which you accept it that determines how you're perceived. Turning down a woman is something completely different. Turning down a woman, when she has taken that step and made that offer, comes across as such a wholesale rejection, such a spine-chillingly loud slap in the face, that it's almost impossible to do, however much you want to." The narrator's tone balances quite nicely with the events of the story, leading to a shocking ending.
In a change of pace, Pat Murphy gives the reader "A Flock of Lawn Flamingos." One of the stories with a lighter tone, it revolves around Nancy's friendship with her new neighbor. Joan has just moved into the very uptight community of Live Oak Estates. Run by the strict Mr. Hoffer, president of the Home Owners' Association, the community has little excitement. But Joan might just be able to shake things up — only within the rules, of course.
A story whose ending took me by surprise was "O, Rare and Most Exquisite" by Douglas Clegg. The main character works in a nursing home and listens to the stories told to him by its residents. One such resident, Gus, speaks of the loves and misadventures of his youth. The story is wonderfully paced and has some great lines — one that stuck out to me was the moment when Gus is introduced, "Bastards always live the longest, it was a rule of thumb on the nursing floor, and this man was a prince amongst bastards." That gave me a chuckle as I was reading. There was also the bittersweet line that I feel sums up the theme of the story: " 'Love,' he said, 'is the darkest gift. It takes all that you are, and it destroys you'." With the theme of the anthology being "revenge," I didn't expect a happy ending, but this was one of the stories where I hoped for it. Still, the story's conclusion was dramatic and definitely worth the read.
Although I enjoyed quite a few of the literary styles in the book, if I had a criticism of it, it would be that several of the tales had some extensive back story in order to make the main narrative more comprehensive. Some stories in general had a slow buildup or very little action, with a lot of background explanation to make up for it. I wasn't a particular fan of this type of story in the context of the anthology, although that is a personal preference. I did enjoy how wide a variety of stories there were, written in many different styles and tones. From science fiction to mystery, literary, horror and everything in between, there really is something for everyone.
Copyright © 2016 by Alison McBain