Bewildering Stories Interviews
Sheila Murdock
Bewildering Stories is a big operation, as our Information page shows. Our Associate Editors are an elite group. Their critiques of submissions not only make Bewildering Stories possible, they are essential to making it the best it can be. The Associate Editors necessarily work anonymously, "behind the scenes." Now we express our appreciation to them with a series of personal interviews.
How did you become involved with Bewildering Stories and when?
In 2006, I joined a writers group and, at the time, was working for another writer by submitting his work to various online magazines for publication, Bewildering Stories being one of them. Reading the works of Carmen Ruggero, Catfish Russ, Margaret B. Davidson, Gary Inbinder, John Stocks, among many others that year, and enjoying the site's artwork that year enticed me back for more.
Is there anything you'd like to tell Bewildering Stories authors to do or not do?
I encourage all writers to find friends or acquaintances with fresh pairs of eyeballs to proofread their nth draft. Think of it as building your readership before your story is published.
What are your favorite and least favorite parts of working as an editor for Bewildering Stories?
My favorite part: The opportunity to read and comment on the gamut of well-crafted, as well as unpolished, stories submitted by new and seasoned writers alike.
My least favorite part: The shortage of time in the world to read them all.
What do you do in real life?
Nowadays, I'm a contented stay-at-home mom, and according to friends, I'm an excellent cat-herder. I know a little about a lot, yet a lot about a little, and apply that to the things I do on a daily basis. It helps with wayward and ornery 'cats'.
What is your occupation?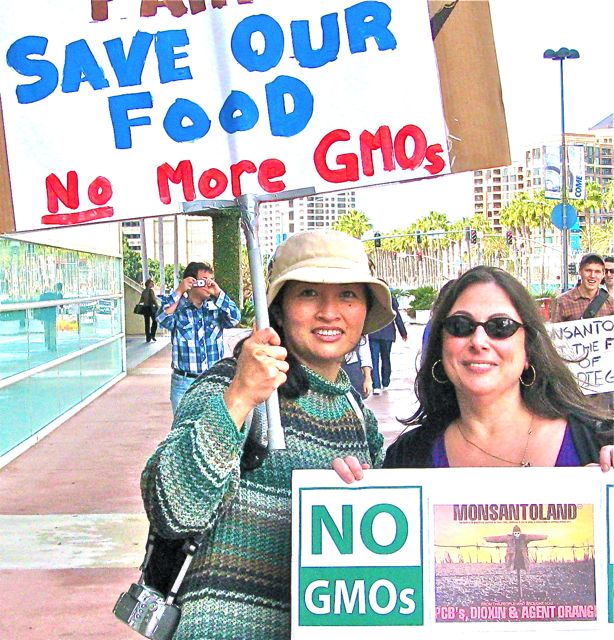 Sheila (left) with friend
Sheri Fogarty
(unidentified FBI agent behind camera,
in background)
I manage a modest home and large organic garden with my husband Mark; home-school our youngest child; act as a moral compass and fashion-police officer to a teen daughter; spend a considerable time studying nutrition and ailments for the betterment of our family, friends and community, and take turns in tending to a flock of Rhode Island Red hens.
What do you like most and least about it?
Most: Waking up every day to do it all over again. Least: Getting henpecked by both man and beast.
What advice would you give to a young person going into your line of work?
There is no manual! Stop looking for one; believe me, I've tried to find it. Seek guidance from your parents, elders, and those who have gone before you. Working for Corporate America for 20 years was a cakewalk — and is fleeting — compared to what I've signed up for in the next 20.
My philosophy is: be kind, always.
What do you do in your spare time aside from review reading for Bewildering Stories?
I have no concept of spare time any longer.
Where do you think you might like to live, either in reality or in your imagination?
Five to fifteen self-sustainable acres of rich, organic soil, with a pond and an artesian spring, and a spacious room in a small house for an impressive library would be ideal.
What's your favorite book?
The Illustrated Man, by Ray Bradbury.
What's the last book that you read and really enjoyed?
John Seymour's The Self-Sufficient Life and How to Live It comes a close second to The Pigeon Finds a Hot Dog by Mo Willems.
If you could be any character — other than one of your own — from a book or movie, who would it be? Why?
Jedi Master Yoda. Looking like an otherworldly garden gnome at 66 cm tall, with wicked swordsmanship, the wisdom of 900 years of experience, and able to wield the Life Force; who wouldn't want to be Yoda for a day?
As a proofreader, I'd drive everyone crazy, though. "A dangling participle your sentence contains."
How do you think literature might be used in education, especially in the age of the Internet?
It is criminal if literature is not being used in education now, both in mathematics and art. With the Internet, there is no excuse not to read classic works or living books. Our homeschool curriculum is 'literature-heavy'. Literature is what makes history beautiful, even in its times of ugliness.
Copyright © 2012 by Sheila Murdock
and Bewildering Stories