Leigh Brackett, Shannach: the Last Farewell to Mars
reviewed by Bertil Falk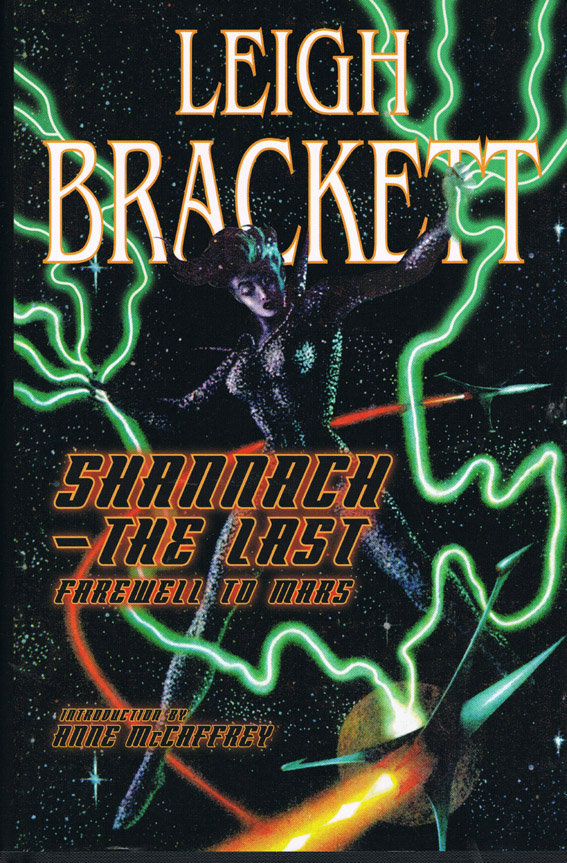 Shannach: the Last Farewell to Mars

Author: Leigh Brackett
Illustrators: Frank Kelly Freas
and Ed Emshwiller
Publisher: Haffner Press
Hardcover: $40 U.S.
Length: 500 pp.
ISBN: 978-1-893887-44-2 (Trade Edition)
978-1-893887-45-9 (Limited Edition)
With Shannach: the Last, Farewell to Mars all short science fiction stories by Leigh Brackett (1915-1978) have moved from the fragile pages of old pulp magazines to the solid world of hard cover. This volume consists of 17 stories — planetary romances, science fantasies, space operas — published between 1950 and 1975 in magazines and anthologies.
Here we find gems like "The Woman from Altair," "The Tweener" and "The Queer Ones," stories that have been anthologized in the past; but there are also a bunch of — as far as I know — never before reprinted tales.
They all have that unique Brackett quality, which her husband Edmond Hamilton described in the anthology The Best of Leigh Brackett (Del Rey Ballantine, 1977). He observes that a recurring theme in her stories is "of a strong man's quest for a dream and of his final failure when it turns to smoke and ashes in his hands." Hamilton concluded that "her heroes seek something that they can never quite attain, yet their failure is not really defeat."
The collection includes four of her 14 Martian stories, some minor ones, but also vintage stories like "The Last Days of Shandakor," originally published in Startling Stories (April 1954).
"The Road to Sinharat," in Amazing Science Fiction (May 1963), and "Purple Princess of the Mad Moon," in Fantasy & Science Fiction (October 1964) are also worth mentioning. To be sure, even the minor stories deserve attention.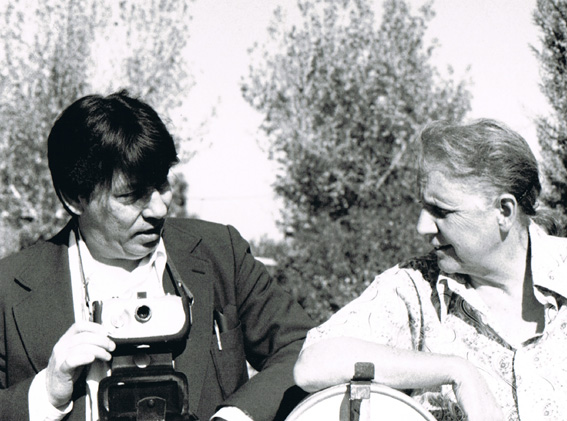 Leigh Brackett and Bertil Falk, in 1975
photo by Edmond Hamilton
A simple story that has a distinctive position in the collection is "All the Colors of the Rainbow," originally published in the November 1957 issue of Venture Science Fiction. It is about a well-meaning couple of green-skinned extraterrestrials who experience the racial hatred of white villagers in a desertlike environment. The story was published when the Civil Rights Movement led by Martin Luther King, Jr. was under way.
Anne McCaffrey has written the introduction. The collection is topped off by a 25-page interview with Leigh Brackett about writing science fiction. The interview was made on October 7, 1975 by Juanita Roderick and Hugh G. Earnharty of the Youngstown State University Oral History Program.
More about Leigh Brackett has been published in Bewildering Stories:
Leigh Brackett (June 25, 2007)

Leigh Brackett, Lorelei of the Red Mist: Planetary Romances (April 14, 2008)
Copyright © 2012 by Bertil Falk