Casey Quinn, Snapshots of Life
excerpts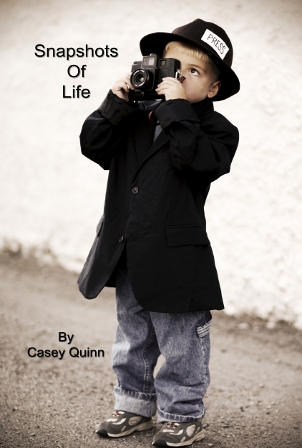 Snapshots of Life

Author: Casey Quinn
Publisher: Salvatore Publishing
Price: $11.36
Length: 88 pages
ISBN: 978-0-9561552-0-7
American poet Casey Quinn observes the irony of everyday life with a keen eye and razor sharp wit. The 88-page collection is available for only $11.36 at any of the following locations:
Reviews:
"Snapshots of Life is a good first effort by budding poet Casey Quinn." - poet, RD Armstrong
"Casey Quinn is the real deal. There's no pretense in his poetry. No fakery. He just goes out there, day after day, and gets the job done. You can't ask for anything more than that." - poet, John Yamrus
Samples:
i want to be just like John Wayne
my niece
when asked to paint the world
family of strangers
hoa safety blanket
ceramic in the sink
i want to be just like John Wayne
drink my whiskey
while laying down
the law
a real, gritty,
down to earth,
no bull, straight shooting,
type of man
lead with actions
not words
stand up for
what is right
take the moral
high road
a man respected
and beloved
by all

yea,
i want to be
John Wayne
right after
i finish
my mocha latte
i'm going to my salon
and get my hair styled
get new denim clothes,
a big hat,
neckerchief
and cowboy boots.
i'm going to be
just like
him.
my niece
i talked
to my niece
today
i had not
seen her
in years
i told her
how tall she got,
how grown up she looked,
how smart she seemed.
she told me
how fat i got,
how old i look,
how dumb i am.
it's really great
to catch up
with the family.
when asked to paint the world
when asked
to paint
the world
through the eyes
of
a terrorist
the painter
began
detailing
homes and
people
office buildings
and airplanes
school buildings and
churches
the vision was
almost finished
the way
she thought
it ought
to be
and when the last
stroke was done

she stepped
away
and lit
the canvas on fire
to complete
the piece.
family of strangers
before
the internet
and computers
and video games
there were
movies
and television
and radio
and before
all of that
there was
a family
that just liked
to hang out
read books
and talk
to each other
about their
day.
hoa safety blanket
streets of
mirrors
owners pay
guardians
to ensure each
meet
the standards
three bedrooms,
two baths
privacy fences are
not allowed
pools are,
only if
in ground
no one
can be different
nothing
too grand
or
too run down
we like it
this way.
less risk
of someone
standing out.
ceramic in the sink

a broken mug
of memories
purchased before graduation
to remember the lessons of
those college years
used daily
in the cubed life where
spill stains remain
for the new occupier
brought home
in a cardboard box
when layoffs
hit the bank
and drank
every day since
during hours
of labored love
in a home office
where dreams
are still chased today
while the mug
is gone
the
drive
remains.
Copyright © 2009 by Casey Quinn