Jack Alcott writes about...
The Poe House in Philadelphia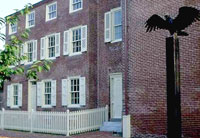 While I was in Philadelphia, I stopped at the house that Poe lived in for about six years during the late 1830's and early 40's. It was one of the most productive periods of his life, and it's where he wrote "The Murders in the Rue Morgue," "The Fall of the House of Usher," and "The Tell-Tale Heart," among other stories.
It's a charming three-story red brick building in the Federal style with yellow door and shutters. Sadly, it's surrounded by an industrial wasteland of highways, strange rusting buildings and razor-wire fences — a setting so appalling he'd probably be moved to write a horror story about it.
Jack Alcott
Copyright © 2006 by Jack Alcott