Book Review:
Kristine Kathryn Rusch, Consequences
reviewed by Jerry Wright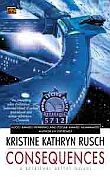 Consequences
Author: Kristine Kathryn Rusch
Pub: ROC
Paperback: April 2004
Length: 384pp
ISBN: 0451459717
Price: $6.50
I was familiar with Kristine Kathryn Rusch from her editorial stint at Fantasy and Science Fiction, and had seen her name on some Star Trek novels. That is why it was a surprise to me to see her show up in an Analog SF magazine a while back with a short story entitled "The Retrieval Artist". This story introduced Miles Flint, an ex-cop on the Moon who retrieves people who have "Disappeared" from society for one reason or another. The story was very well thought out and dense, and a great cross-coupling of SF and detective/mystery story. I was very pleased and intrigued by the story and Universe that KKR had created. What makes this concept great is that humanity is enmeshed in some horrible legal agreements with Alien races they've come in contact with, with money and greed being the primary reasons, and actions that are harmless or at least not illegal on Earth can become Capital crimes if the Aliens are involved. So people Disappear.
Consequences is the third novel taking place in the "Retrieval Artist" universe, and like the first two, stands quite well on its own. Rusch knows both the SF field AND the mystery field, and she doesn't play fast and loose with the rules of the Detective novel. The novel is part police procedural, part detective novel, and all SF.
Strangely, the first Retrieval Artist story takes place AFTER these three (and perhaps more to come) novels, and the novels are leading to the short story. Very Curious. It doesn't matter though. The very conflicted Miles Flint, his ex-partner Noelle DeRicci (who moved up in police ranks thanks to Miles' help in the previous novel Extremes) and the "Disappeared" Carolyn are well-drawn. Certain of the other characters are a bit flat, but it doesn't really matter. This story is very good, and a pleasure to read after the slightly disappointing previous novel. Not that Extremes was bad, but just not as much fun (to me) as The Disappeared.
Anyway if you like SF, like mysteries, and like well melded combinations of the two, you will enjoy Consequences because "unintended consequences" are the name of the game.
--Jerry
Copyright &copy 2004, Jerry Wright and Bewildering Stories