Vicki Wootton
Bewildering Stories biography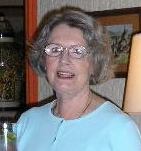 I write under my real name, Vicki Wootton, and a pen name, Sam Marshall.
Why did I write? Whose sin unknown
Dipt me in ink, my parents' or my own? —Alexander Pope
I'm a compulsive writer, an idealist, an eccentric, and a pacifist —although there is often war, violence, and cruelty in my novels. My siblings think of me as the black sheep, partly because I'm the only one who never made any money-the proverbial rolling stone-but I'm happy and enjoying an interesting life.
I'm not happy with the current state of the world and frequently ask myself, what if...? This is where many of my story ideas originate. My novels are mostly speculative fiction, although I have written a few mainstream.
Born and educated in England, I moved to Canada when I was nineteen and lived there for many years. I also spent six years in southern California. Now I live in Guadalajara, the second largest city Mexico.
I've been married, divorced, and have four children (three born by the time I was twenty-three).
I've worked in many jobs, but never had a real career, having been everything from galley girl on a fishing boat to law office accountant. I also trained as a registered nurse, have a diploma in interior decorating, and a certificate in desktop publishing.
I currently work in my home office on my publishing business, Stargate Publishing. I design web sites, posters and brochures and do word processing to make a few pesos. When I have time, I write.
I didn't realize I was a writer until fairly late in life. Before that, I had always thought of myself as a frustrated artist. There is a rumor in my family that my paternal grandfather was a famous, although not very distinguished, novelist. Grandfathers were never discussed in my family because they were unknown entities, but my father did reveal this when he was dying.
Some of my favorite things are (in no particular order) trees, music, color, art, travel to interesting (historic) places, computer games (epic adventures), designing just about anything, pizza, gardens, Mexican food.
Things I don't like: noise, cruelty, sitting on a beach (boring), war, television, apathy.
Publications:
Fatal Harvest, published in 2002
Four books published in 2006:
Copyright © 2007 by Vicki Wootton
Bewildering Stories bibliography