S. Michael Leier
Bewildering Stories biography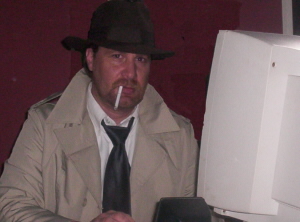 Rick Vargo is modeled after real life.
S. Michael Leier lives in Austin Texas. He has been writing for over three decades starting at East Central High School in St. Leon, Indiana to the present.
Mike is well known internationally as a voiceover actor lending his voice to thousands of radio and television commercials, theatrical trailers, and narrations. He has also appeared in several stage plays.
Mike is an accomplished musician. He released his first single, "Lonely Boy," in the spring of 1984 and appeared on stage at the Grand Ole Opry in Nashville Tennessee.
As the father of two, step-father to four, and grandfather to a lovely baby girl, Mike's life is full of magnificent joy and wonder. He has a strong passion for writing, and he credits the love of his life, Sheryl, for the inspiration he needed to really pursue that passion to its fullest.
With writing, as with life, Mike has learned that there is no end to any story, just new chapters to fuel the imagination.
Copyright © 2006, 2012 by S. Michael Leier
Bewildering Stories bibliography