Brian Grisham
Bewildering Stories biography
Brian Grisham lives in Modesto, California. He has published over thirty stories online and in print, and has also published a novelette titled, "When the Moon Remembers." He currently works as a computer vinyl graphics artist. In other words, he makes computer-generated vinyl lettering for signs and automobiles. He also makes custom window graphics for rear windshields and does pinstriping, though the majority of his workload includes store-front advertisements for businesses all over California.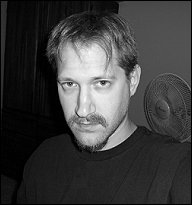 In 1997, Brian was a tutor in the English department at Modesto City College. He is currently working on a novel and has put together a book of short stories titled Black Roses In Delirium.
I have published over thirty stories online and in print, including such places as Horrorfind.com, Demensions, Scifantastic, Dark Corners and The Murder Hole. In 2001 I published a novelette titled "When The Moon Remembers." My latest story, "Undergrowth," is in Grimoire De Solace, Vol II, "Milking Blood For Poison Pens," an anthology by Christopher Heath. I also have a short story published at Wanderings, in the August issue.
Copyright © 2005 by Brian Grisham
Bewildering Stories bibliography