Michael E. Lloyd
Also on this page: About the author, Reviews, and Excerpts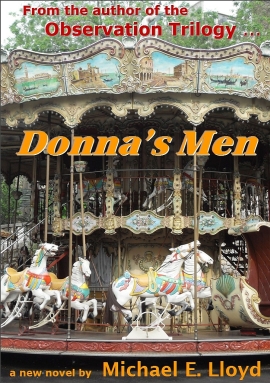 Book One: Windmills Everywhere
April 2009: Donna Burgess is suffering a crisis of identity, following a startling revelation made by her "mother" on her deathbed. Donna's attempts to escape from this crisis have brought her to a state of mind in which she has begun to have hallucinations and associated delusions. The most precious ingredients of her personal life — the greatest works of Western architecture — soon become the object of these ever-worsening experiences, their façades falling victim to heartless swapping over by forces unknown. Donna determines to fight back, and launches herself on a quixotic crusade to unmask the perpetrators of these evil corruptions, these "windmills everywhere". But will anybody take her seriously, or even lend a helping hand ...?
Book Two: Never So Good
June 1955: Peter Kerr is four years old today, and he has just received the best possible birthday present: his twin sister Jane, who was killed in a freak accident when they were only eighteen months old, has come back to be with him in spirit. She offers him her devotion and her "guidance" throughout his childhood years, and suggests she might help him write a regular diary of their future shared "lives" ...
Book Three: At Home With Robert
October 2019: Robert Kerr, Peter's elder brother, is now seventy-one, and has just enlisted the help of a regular volunteer "Visitor" at his latest Residential Home. Mrs Donna Wilkins has been happy to agree to his request to capture his "little tale of myself and my family" on her voice recorder and transcribe it for him between visits, section by section. But everything is not as homely as it seems, and as Robert reaches the end of his tale, a stunning secret finally and painfully emerges ...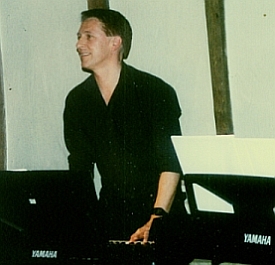 Michael E. Lloyd lives near Cambridge, England. He worked for thirty years in the international information systems business, but left all that behind in 2002 to pursue his other neglected interests, writing in particular.
His first full-length novel, Observation One: Singing of Promises (written and set in the world-changing year of 2003) is founded on one of his greatest passions: the truth and integrity embodied in the life and work of the American writer, singer and musician, Janis Ian. The following year he went on to produce a definitive study and celebration of Janis' complete body of over 270 recorded songs.
Observation Two: Standing Divided was written in 2006, and Observation Three: Changing Hearts marked the completion of the Observation Trilogy in 2008.
A very different sort of story, Donna's Men, emerged in 2010, and Mike completed his latest full-length novel, Missing Emilie, in 2011.
When he's not writing, Mike enjoys pike and carp fishing, choral singing and occasional private flying, as well as editing, reading, drawing, language tuition, music, bridge, and chess. His own web site can be found here.
Michael E. Lloyd pulls out all the stops in this grand exploration of the reliability of memory and perception and the inevitabilities of circumstance and fate. Donna is a woman who awakens one day to a world ruled by a conspiracy to undermine and deface all she holds dear. Her obsession to discover the root of the assault drives her and the reader across a cultural and philosophical landscape warped by psychosis and dusted with liberal doses of wit and insight.

Donna's inevitable rude awakening is just the beginning of the real story. Her life is the product of a tragic family history which is far more compelling than the culture vulture narrative of her ersatz reality. Donna's Men combines stylistic risk, cultural acumen and solid storytelling to do what the best literature always does. It takes us on a fascinating journey through the mind and ultimately arrives at the heart.

In "Windmills Everywhere" you have created a fully developed character. The confined point of view, the running internal monolog, and the narration in present tense all bring Donna to life and focus the reader's interest on her. Telling the tale in scene and dialog, rather than info-dump, pulls the reader into the story. 'Shaunie' is also an interesting character, and the intrigue and deception/betrayal plot line with him is a strong element.

In "Never So Good", by means of extended dialog, you have created two endearing young characters, with the images of the parents in relief against the background.

And in "At Home With Robert" the plot is intriguing and the strands well woven. The delayed revelation is powerful. You have also depicted certain of the main characters in great depth; they are memorable and sympathetic. Donna's Men packs a lot of punch. It's a great accomplishment!

Bill Bowler
Coordinating Editor
Bewildering Stories

"Windmills Everywhere" is a fine example of first-person narrative. Well-written, engaging, witty and laced with dark humor and psychological insight. I thought the Paris café scene was a hoot!

"Never So Good" is a beautifully written narrative. The dialog in the form of a diary is moving, and nicely interweaved with changing circumstances including economic, social, political and popular culture changes of the period.

And "At Home With Robert" is very interesting. Stories within stories, with an unconventional approach to narrative structure. The ending is more contemporary and not as happy as some more famous examples of the "confused parentage" theme. Well done!
Load of trivia on the local radio news as usual. Waste of my brain-space. Still, we'll get some good music again in a minute ...
'And finally ... the BBC, the Metropolitan Police and three national newspapers have all reported receiving fascinating calls yesterday evening from various phone boxes in Soho and Chinatown. In each case the caller was insistent that the frontages of various famous buildings in the heart of the capital had been completely replaced by others!'

'Well, Jill ...
'What? Did I hear that right? Oh, that is such good news!!'
... were obviously looking at the wrong month on their calendar!'
Huh?
'I think that must be it, Alan! Or maybe there's a big game of Monopoly going on out there!'

'Maybe, Jill! Quite a story, anyway! So, that's all from the London News team until ...'
This is just wonderful! So there are other people out there who've seen what's been happening. I knew there must be! Now all I have to do is make contact. Oh, what a relief!
---
It must be time for dinner. I am clearly on my own tonight.
I walk the few blocks to Les Porcs-épics, picking up a copy of Paris Match from a kiosk. As I reach the café, a corner pavement table is just being vacated. I pounce, and secure it.
But I find I am not hungry. I order an expresso, nothing more. As I await its arrival, I ponder the headline of my magazine: David Le Sauveur. Unannounced, a blue gossamer curtain descends on my right, isolating me from every other part of the café. A little disconcerted, I look up and see a small motorcycle drawing to a halt in front of me. Its rider dismounts and strolls purposefully up to my table. It is unmistakably Albert. He sits down opposite me with little ceremony, reads the magazine headline upside down, exhales a blue mist of Gitanes smoke which makes me cough, and remarks, largely to himself, 'Perhaps football is the way.'
The curtain rises and disappears. Every pair of café eyes is staring straight through us. They still see me, I feel, and Albert too, and they are seemingly fascinated by us; yet they pretend to ignore us completely and maintain their focus on the fashion parades of the pavement and the street.
'How did you know I would be here?'
'It was always possible, Donna. Now, you must come with me at once, if you wish to meet all the others and listen to my argument with J-P.'
'But my coffee ...'
'It will survive without you. Let it be. Now, come on!'
He stands and gently squeezes my shoulder. I am briefly aggravated by this, but then I decide that when the solution to her very existence could be close at hand, a girl simply has to follow her instincts.
I take his arm and we walk off together. I hear the patrons of Les Porcs-épics breathe a communal sigh of relief and return fully to their happy unreality.
Albert straddles his moto and urges me to jump on behind him. And then we are off, weaving in and out of the traffic and cruising faster and faster along the streets and boulevards in a heady inhalation of undiluted Paris!
I am Amélie!! I am free!!
---
Of course, I don't actually remember anything about that other Christmas Eve in 1952, eleven years ago. And my parents never ever talked about it.
But then I never needed to ask them, anyway. Because I heard it all from Jane, the first time she spoke to me, in June 1955 ...
Happy Birthday, Peter.
'Who are you?'
I'm your twin sister Jane.
'But you died. They told me.'
What did they tell you?
'They said you went away to be with God ... on the day before Christmas, when I was only eighteen months old.'
And that's all they've ever said about it, isn't it?
'Yes.'
I know. Well, I'm still here, Peter. I've been here all the time, even though no-one can see me.

But I decided it wasn't right to try and talk to you until today. I think you're old enough to start to understand it now. And it is my fourth birthday too ...
'Oh! Of course it is! Happy Birthday, Jane! But you do sound very grown-up ...'
Peter, you must listen very carefully.

I am growing up and learning things a lot faster than you are. That's because I don't have any distractions! I'm already more like a seven or eight-year-old, I think. Older than Robert!
'I don't understand that at all. And how are we both able to talk without speaking?'
Be patient. I need to tell you first about the day I left you ...
---
'So, Donna, how did you react to Peter's reflections on the events of 1963? And to "Jane's" crystal ball gazing ...?'

'I felt he was slowly getting a little more mature, at last — despite the continued moaning and his declining interest in his sister — and I began to have high hopes for him. But I was concerned about the increasing attraction of gambling. As for Jane's predictions ... well, either Peter cheated himself and everybody else and typed that whole section up a full year later, or "somebody" had an entry key to a very large number of worldwide strategic planning meetings and think-tanks ...'

'So you believe "Jane" really was still around ... until she finally died again?'

'I don't know, Robert. But I'm tempted to give Peter the benefit of the doubt ...'
---
You can buy the Print Edition of Donna's Men here:
And you can buy Donna's Men as an e-book in PDF format, with PayPal, here:
---
Return to the Bewildering Press home page.
All content on this page is copyrighted and may not be used without written permission of the owner.